"A life without food is like a long journey without a stop" (Demokrit)
Business lunch  at the garden next to the Inn including a view of the tyrolean river or on the sun patio with a view of the castle garden - is something special and differs remarkably from the interchangable interiors of other establishments. Our competent team cares for the individual composition of your festival - from 5 to 50 people. There are two public rooms, that can fit 35 people each, as well as a beautiful guest garden "Rosengarten" close to the Inn and a sun deck with a view on the newly built playground during the summer. We offer comprehensive service for you and your international customers during business lunches, company parties, seminaries, meetings etc. We will kindly make cakes, pies and snacks for you, as well as festive arrangements and menus from 3 to multiple courses - always seasonal and tailored to your wishes. Relax in our beautifully lit castle garden, that invites you to stay, in the evening.
---
Dishes from Mitterhart Castle's kitchen
We would like to present the following culinary excerpt and emphasis from our current menu in the link below:
"The food should first please the eye
and then the stomach. " (Johann Wolfgang von Goethe)
---
Restaurant and Tyrolean tavern at Mitterhart Castle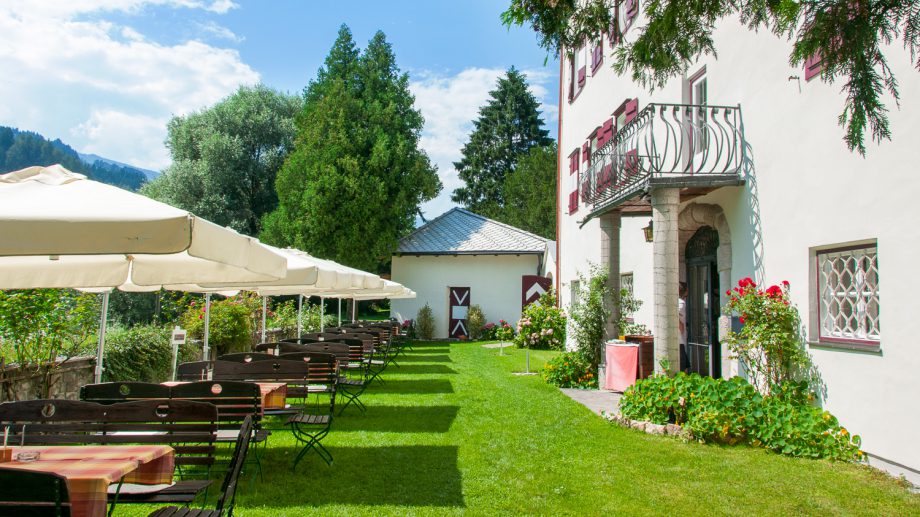 We are a tradiotionally run family business - a hospitality business with special flair - member of the "Tiroler Wirtshaus" initiative, where you can enjoy the tyrolean cuisine. We offer plain cuisine, reaching from tyrolean specialities to international meals. Our kitchenchef says: "We offer clearly presented light, seasonal and regional meals. The endproduct should be recognized on the plate and we consciously relinquish flavor enhancers and industrial products." Our tenderly shaped herbary with mint, chervil, majoram, rosemary, sage and many more brings fresh ingredients directly from our garden onto your plate. The castle restaurant Mitterhart is a member of the club "Tiroler Wirtshaus". Tiroler Wirtshaus represents around 130 establishments for gastronomical self-confidence, which saves the originality of the tyrolean cuisine, but also welcomes new ideas.
And because trust is good, but control is better, our restaurant is regularly checked. The visit reports from 2019, 2016, 2013, 2012, 2011 can be viewed.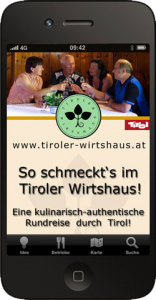 New for iPhone users: 
The Tiroler Wirtshaus App
. Here you can find an overview of the members of "Tiroler Wirtshaus" including descriptions of each residence.
Parking and directions
The direct traffic connection and enough parking space directly in front of the house complete the offers of restaurant and tyrolean tavern at Mitterhart Castle.
Opening times
Tuesday until Saturday from 09:00 to 23:00 
Sun- and holidays from 09:00 to 16:00 
Cuisine from 11.30 to 14.00 Uhr and 18.00 to 21.00 
Sunday evening and Monday day off! Arrival for room possible!
Table reservation